EDIT MAIN
Science Fair Information
Grades 3-6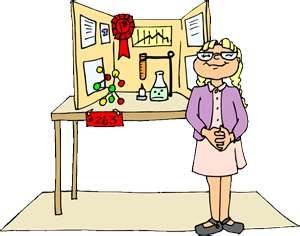 Planning a Science Fair Project
This is information to help you with your science fair project. Through a science fair project you can learn what it is like to think like a scientist, to investigate and experiment in an area of your interest, and to share your results. A science fair project must use the scientific method" and not be just a demonstration or comparison. We hope, with this information sheet, to prepare you for planning a good project using the "scientific method".
Doing a First Class Project:
A first class science fair project has four major features:
It contains an original, high quality experiment.
The results of your experiment are clearly and neatly displayed.
The display grabs the attention of the judges
The project includes a scientific paper that tells you everything about your project.
All four features are equally important. The following will help you plan and do your project.
Presenting Your Project:
All of your hard work and your well-done experiment will not be noticed if your project does not grab the attention of the judges and the public. Your project will be examined; your efforts appreciated and may be rewarded if your project is:
Organized: Arrange the presentation of your project so that the judges can easily examine and understand your experiment and your results. With one quick glance, a viewer should be able to easily find the four necessary parts of your display: the title, how you did your experiment, your data, and your conclusions. Remember, even though you are familiar with your topic and your work, when the judges see it, they will have no idea what your project is about.
The Title Is the Beginning: Your title is what the judges might see first. But it should be so much more than just a beginning. A good title grabs the attention of the casual observer. It is short, yet it correctly and completely describes your entire project. A good title begs the people looking at your project to dig deeper. Do not disappoint them. Make sure that your title tells us what your project is about.
Eye Catching and Attention Holding: Home built equipment, neat and colorful headings, graphs and tables all draw attention to your project. The careful use of contrasting colors will help. For filling in charts and bar graphs, construction paper cut-outs look much better than coloring white paper. For line graphs, use different colored marker pens instead of pencils. 
One area often needing extra attention is the labeling of graphs, charts, diagrams and tables. Each item must have its own very descriptive title. All columns, axes and data must be clearly labeled and identified. A person should be able to understand each graph without having to read your paper. Also, bar graphs, line graphs and pie charts all have different purposes. Check with your math teacher to make sure you have the right graph to display your type of data.
Your Science Fair Display Board
Be sure to include all of the following items on your science fair display board:
The title
Your name
A purpose statement
Your hypothesis
The procedure
Data and results - charts, graphs, analysis, picture
Your conclusion

The Research Paper/Journal
Each page of the research paper/journal only needs to be a few sentences or so.
A title page
Acknowledgments (Did you receive help or materials from teachers, parents, a librarian, etc.)
A table of contents
A purpose statement
Your hypothesis
A list of materials
The procedure
All data - charts, graphs, photographs and all analysis of your data
Your conclusion
Daily log – what did you do each day
Background information (including a bibliography)
Suggested Format
Title page or cover page
The title should describe the content of your paper in as few words as possible. Make the title concise but also descriptive. A two or three word title may be too vague, but a 14 or 15 word title is probably too long.
Cover Page: The cover page states the student's name, school name and address, title of the research, grade in school, and category of the research. Make your title concise but also descriptive. Your title should indicate the nature of your research, not the entire content. The best titles are usually ten (10) words or less.
Acknowledgments
This section is optional. If included, you might, for example, identify where and when the research was done acknowledging those who provided major assistance with the study. In this section, credit is given to individuals who provided assistance in selecting the topic for study, in planning or guiding the course of research, in construction of apparatus, or other direct assistance.
Introduction
The introduction should clearly state the nature and scope of the problem investigated and "Introduce" the study by providing background information and reviewing relevant literature. Presume that the reader is scientifically literate but not familiar with the specifics. The introduction should also provide the rationale for the study. Explain your purpose in investigating the problem and its significance.
The introduction is not:
A single sentence
A list of definitions or terms
Simply a literature and concept review
List of Materials & Procedure
In paragraph format, discuss the materials, methods, or procedures used to conduct the research. A numbered list of steps or items used is not acceptable. Describe how you conducted your study, what equipment you used, and what procedures you followed. Provide enough details so that someone else could replicate the research.
This section should enable the reader to evaluate the appropriateness of your methods and the reliability and validity of your results. Do not discuss any results in this section.
Data
Present the results of your research findings in logical order. You should not interpret the results in this section; just present the facts. Use visuals (graphs, tables, and other illustrations) as appropriate. Refer to all tables as "tables" and to all graphs, pictures, or other illustrations as "figures."
Even if your results are presented in a tabular or graphic form, the important highlights of each table or figure should be discussed in text. Tables and figures should supplement or complement text and eliminate lengthy discussions.
The results of the statistical analyses, if performed, should also be reported and discussed in this section. Remember to explain the statistical tests used.
Conclusion
You discuss and interpret your results in this section. Relate your results to your original purpose in undertaking the project. Compare your findings with existing research. Show how your results and interpretations agree (or disagree). Draw conclusions based upon your data (as reported in the results).
Make sure to acknowledge any limitations, which affect the results and discuss any other factors over which you had no control. Explain how these might have affected the study outcomes.
Keep in mind that not all research has world–shaking consequences to the human race. All you can do is show the findings revealed by your data.
The Discussion should end with a short "conclusions" section summarizing the most important points of your findings. You may suggest further experiments to continue this project.
Background Information
Virtually, all scientific papers rely to some degree on previously published work. When a fact or an idea is borrowed (whether directly or paraphrased) from another source, it must be acknowledged in the text and the origin of the information must be revealed.
The formal acknowledgment within the text is called a citation. The citation serves as a link between the text in which it appears and the formal list called Literature Cited. All citations in the text must appear in this list; likewise, all references in the list must be cited in the text.
There are several systems for citations, with variations on each. These guidelines follow the author–date system.
EXAMPLES OF SCIENCE FAIR BOARDS