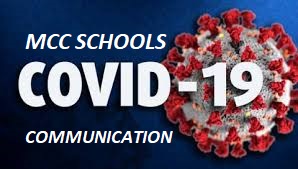 MURRAY COUNTY CENTRAL SCHOOLS COVID-19 DASHBOARD
THIS DASHBOARD IS UPDATED OFTEN AND REPRESENTS A SNAPSHOT OF DATA THROUGH September 23, 2021.
INFORMATION ON POSITIVE CASES CANNOT BE SHARED DUE TO DATA PRIVACY. ALL CLOSE CONTACTS AT SCHOOL ARE NOTIFIED DIRECTLY BY THE SCHOOL.
POSITIVE CASES ARE NO LONGER ACTIVE AFTER A 10-DAY ISOLATION PERIOD PER GUIDANCE FROM THE CENTER FOR DISEASE CONTROL.
*District COVID notifications are only sent out for those cases who are present at school during their contagious period.
TOTAL STUDENTS / TOTAL DE ESTUDIANTES
737 - Total Students in District
259 - West Elementary Building
478 - Central High School Building
21-22 TOTAL CONFIRMED STUDENT CASES / TOTAL DE CASOS CONFIRMADOS DE ESTUDIANTES
7
CURRENT ACTIVE CASES / CASOS ACTIVOS ACTUALES
7
CURRENT STUDENTS QUARANTINED OR ISOLATED / ESTUDIANTES ACTUALES EN CUARENTENA O AISLADOS
16
PERCENTAGE OF STUDENTS WITH ACTIVE CASES / PORCENTAJE DE ESTUDIANTES CON CASOS ACTIVOS
.94% - Total in District
1.5 % - West Building
.63% - Central Building

TOTAL STAFF / TOTAL DE PERSONAL
121
21-22 TOTAL CONFIRMED STAFF CASES / TOTAL DE CASOS CONFIRMADOS DEL PERSONAL

CURRENT ACTIVE CASES / CASOS ACTIVOS ACTUALES
0
CURRENT STAFF QUARANTINED OR ISOLATED / PERSONAL ACTUAL EN CUARENTENA O AISLADO
1
PERCENTAGE OF STAFF WITH ACTIVE CASES / PORCENTAJE DE CASOS ACTIVOS DEL PERSONAL
0%
LINKS TO HELP PARENTS WITH DECISIONS ON STUDENT HEALTH AND ATTENDANCE
ENLACES PARA AYUDAR A LOS PADRES A TOMAR DECISIONES SOBRE LA SALUD Y LA ASISTENCIA DE LOS ESTUDIANTES