MURRAY COUNTY CENTRAL SCHOOLS
COVID-19 DASHBOARD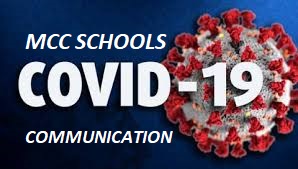 THIS DASHBOARD IS UPDATED OFTEN AND REPRESENTS A SNAPSHOT OF DATA THROUGH May 18, 2022.
INFORMATION ON POSITIVE CASES CANNOT BE SHARED DUE TO DATA PRIVACY. ALL CLOSE CONTACTS AT SCHOOL ARE NOTIFIED DIRECTLY BY THE SCHOOL.
*District COVID notifications are only sent out for those cases who are present at school during their contagious period.
POSITIVE CASES ARE NO LONGER ACTIVE AFTER A 10-DAY ISOLATION PERIOD PER GUIDANCE FROM THE CENTER FOR DISEASE CONTROL.
TOTAL STUDENTS / TOTAL DE ESTUDIANTES
738 - Total Students in District
258 - West Elementary Building
480 - Central High School Building
21-22 TOTAL CONFIRMED STUDENT CASES / TOTAL DE CASOS CONFIRMADOS DE ESTUDIANTES
134
CURRENT ACTIVE CASES / CASOS ACTIVOS ACTUALES
1
CURRENT STUDENTS QUARANTINED OR ISOLATED / ESTUDIANTES ACTUALES EN CUARENTENA O AISLADOS
1
PERCENTAGE OF STUDENTS WITH ACTIVE CASES / PORCENTAJE DE ESTUDIANTES CON CASOS ACTIVOS
.14% - Total in District
0% - West Building
.21% - Central Building

If a school building reaches a threshold of 3% active student cases, a mandatory mask mandate will go into effect for a period of two weeks and then numbers will be re-evaluated.
At 5% positive case rate, distance learning will be strongly considered for the population of infected classes or buildings.

TOTAL STAFF / TOTAL DE PERSONAL
121
21-22 TOTAL CONFIRMED STAFF CASES / TOTAL DE CASOS CONFIRMADOS DEL PERSONAL
34
CURRENT ACTIVE CASES / CASOS ACTIVOS ACTUALES
1
CURRENT STAFF QUARANTINED OR ISOLATED / PERSONAL ACTUAL EN CUARENTENA O AISLADO
1
PERCENTAGE OF STAFF WITH ACTIVE CASES / PORCENTAJE DE CASOS ACTIVOS DEL PERSONAL
.83%