Today's Announcements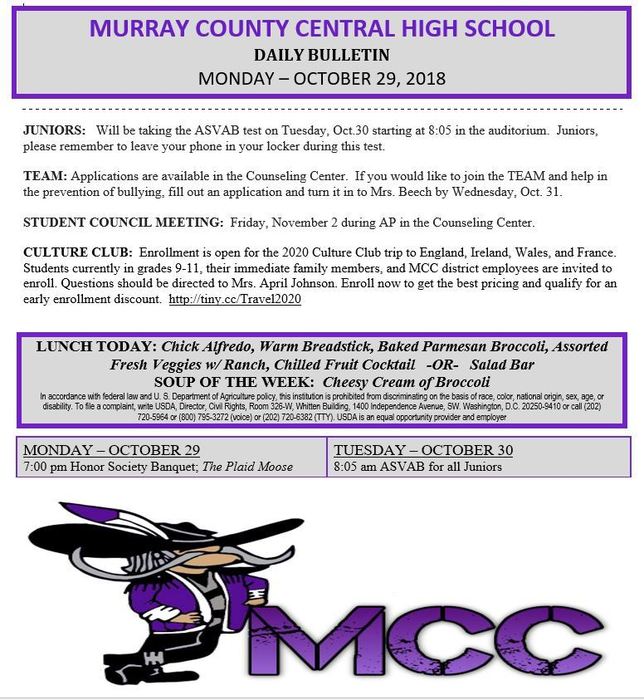 Rebels win 45-20. Will play Friday at SMSU. Kick off is scheduled for 2:00pm
MCC touchdown! Mason Woldt sneaks it across for 6. Benda runs for the 2pt conversion. MCC 45 to MVL 20.
Rebels lead 37-20 at the end of three!

At the end of three quarters in Slayton, MCC 37, MVL 20.
Woldt to Benda for TOUCHDOWN. 2 pt run by Benda puts the Rebels up 37-20 with 8:55 to go in the second half!
Mason Woldt scores on a sneak and kicks the extra point. MCC leads 29-20 at half.
MVL scores on a 23 yd pass. It miss the conversion. Rebels still lead 22-20!
MVL scores on a long pass play but misses extra point. Rebels lead 22-14 with 7:40 left in the half!
Benda scores another touchdown with another Woldt kick makes the score 22-8 Rebels!
Rebels lead at the end of 1 quarter of play 15-8. Rebel Pride!!!!
Justin Benda scores a Rebel touchdown. Mason Woldt kicks the extra point. Rebels lead 15-8 with 2:16 to go in the 1st.
MVL scores a touchdown and completes the 2pt conversion. 8-8 with 6:12 to go in the 1st quarter.
MCC takes the early lead on a Mason Woldt touchdown and 2 point conversion. 8-0 with 9:04 to go in the 1st!

GAME TIME!!! Semi-Final of Section 3A. MCC vs. MVL. GO REBELS!!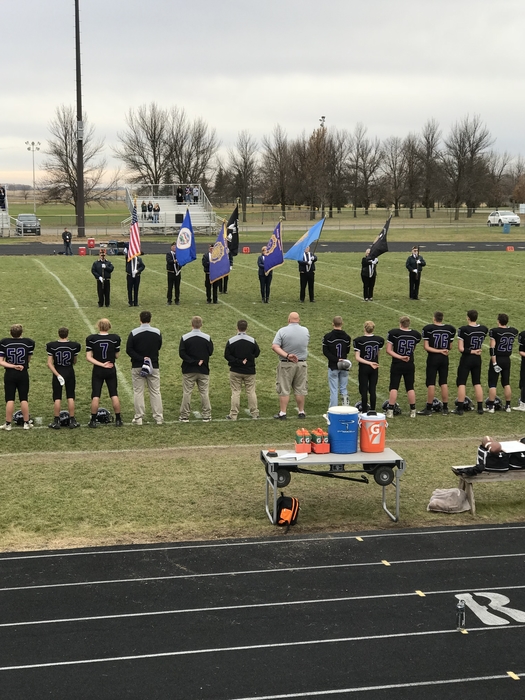 One hour to Kickoff!!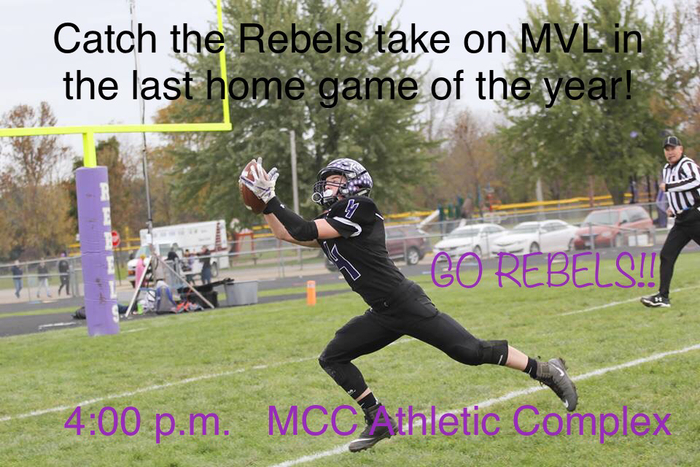 5 hours to kickoff!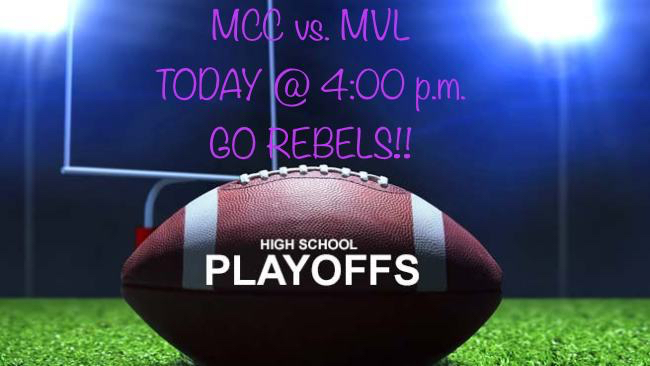 UPDATE: Here is an updated list of our 2018-2019 MCC Booster Club Donors. THANKS FOR YOUR SUPPORT!!

Rebels lose game four 26-28 and the match 3-1 to Red Rock Central. GREAT SEASON REBEL GIRLS! We are proud of you!

MCC Drama Department will be performing "The Little Mermaid" on November 8, 9, 10. Another dress rehearsal tonight. Plan on attending one, two, or all three nights!!