Due to weather, adult co-ed VB is cancelled for this evening.
Due to weather conditions, Open Gym is cancelled for today. Stay warm and safe!
Due to worsening road conditions, youth theater rehearsal will end at 4:00. Please pick up your student at that time. Thanks!

The MCC girls basketball team beat the Adrian dragons 69 to 49! They will move on and play Hills Beaver Creek in Worthington on Tuesday night.

Rebel Boys win over Ellsworth 57-34 on Senior Night and finish undefeated at home this year! They play at Pipestone on Tuesday to close out the regular season. Rebel Pride!!
Congratulations to MCC's Triple A award winners Montana Beckmann and Jack Pierson. Jack also was chosen as the sub-region 10 Triple A winner! Rebel Pride!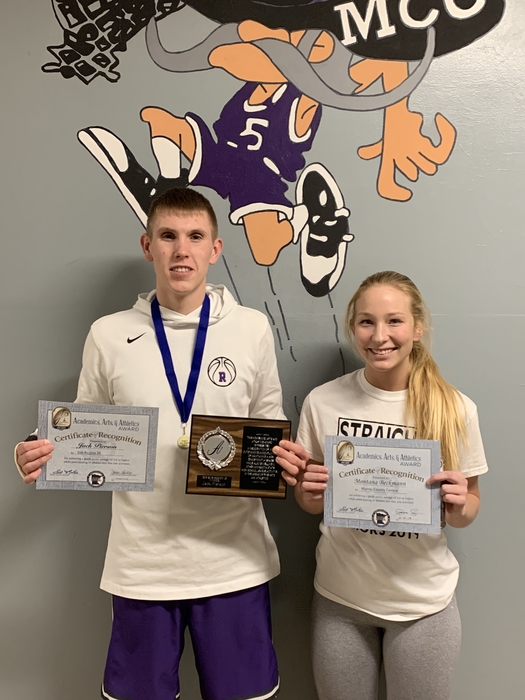 The speech meet in Adrian has been canceled for MCC. We will be adding a meet at a later date to make up for this cancelation!


MCC's home made Brown "E's"! Some of our HS paras dressing up for character day during our Snow Week! Rebel Pride!!

The School District has developed a plan to make up some of our snow days by adding 20 minutes per day starting Mon, March 4th until our last day for students which will be Fri, May 31st. For more details, please read the news article @
www.mcc.mntm.org/news
.
Activities changes for Friday and Saturday Events: Friday's boys basketball will start at 5:00pm with b-squad. Elementary dance routine will take place in between the b-squad and varsity game! Saturday's girls basketball game will be in Hills starting at 12:30pm.

Dance Postponed: Due to the incoming weather and game being moved up on Friday, the SNOW DANCE is postponed to Friday, March 8 following the Coaches vs. Cancer game.

Friday Dress Up Day: MCC High School Student Council has decided to combine days on Friday. It will be Ugly Sweater Day OR Group Character Day. You can do either!!

High School SNOW WEEK update: Thursday: Dress up day is Sports/Jersey Day AP: Badminton Playoffs Friday: Dress up day is Ugly Sweater Day Four Court Volleyball, 1st block AP: Open Gym for grade 7-9 (grades 10-12 will have an Open Gym at a later date)

MCC Schools will be closed on Wednesday, February 20, 2019.

MCC Schools will be 2 hours late on Wednesday, Feb. 20 2019.

Boys varsity basketball won against Edgerton 81-56!

Rebel Girls win 81-50 over Edgerton to close out the regular season. Playoffs start on Saturday in Worthington at 12:30 vs. Adrian.

Rebel girls varsity b-ball halftime score against Edgerton 51-32

Rebel girls b-ball b-squad win against Edgerton final score: 30-19